INTERNATIONAL WOMEN'S DAY: OUR WINNER OF THE YEAR 2021 ANGIE A
International Women's Day (8th of March) is celebrated in many countries around the world. It is a day when women are recognized for their achievements without regard to divisions, whether national, ethnic, linguistic, cultural, economic or political.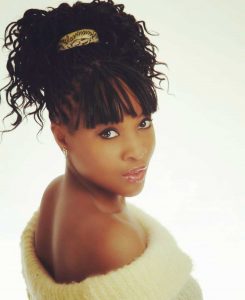 BonaFideStudio traditionally celebrates it by giving The Women of the Year Tribute and this 2021 we chose a singer, songwriter and entertainer Angie A.
Angie's ethos is based on the belief that music and the arts or doing anything creative and fun is of the utmost importance in these tough times. Angie loves to involve the local community in some of her creative projects and she also runs a Soulful-Adult-Singing-Group sharing her skills with others. As well as being a professional Vocalist/Songwriter/entertainer, Angie is a qualified Teacher.
She sang at Muswell Hill Christmas Tree virtual lighting ceremony, supported us with her beautiful voice at Small Business Saturday and she kept us breathing through lockdown with her online classes  'KEEP CALM & SING' WORKSHOPS FOR ADULTS – SINGING WORKSHOPS WITH A HOLISTIC TIP. Her AKCAS Nature workshops resume on Sunday 28th March, so put it in your diary! We also know that Angie worked hard on some new songs so watch this space.
Angie was creative and busy with a plethora of different projects over the Pandemic crises so we feel there is no one more deserving of our Award but her!
Thank you Angie for keeping our spirits up and Happy International Women's Day!
Angie is currently crowdfunding for PPE for her organisation's venue-based projects. Donate here
Website: https://www.angie-a.co.uk