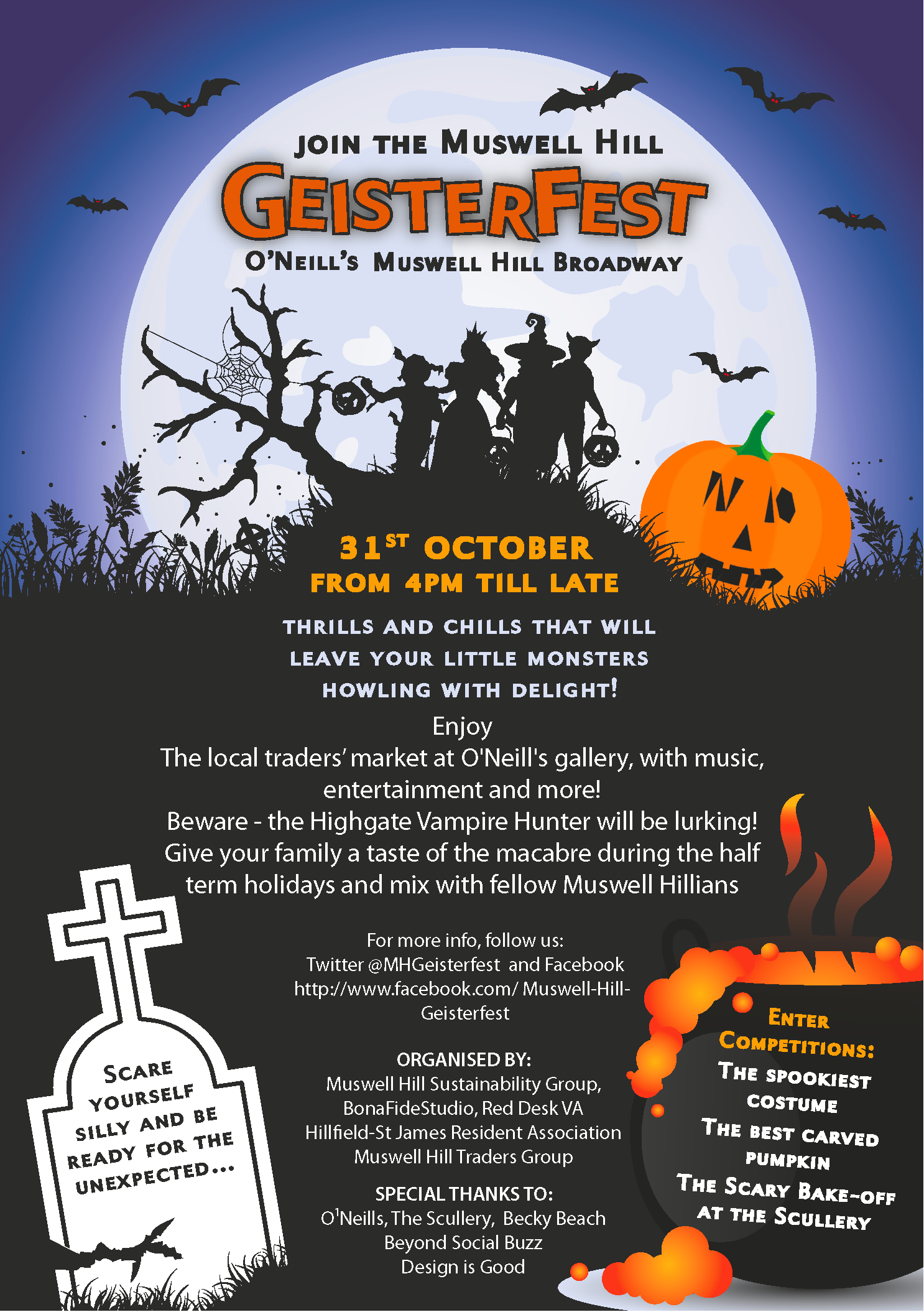 Muswell Hill GeisterFest
From 4 pm on Saturday 31 October, 2015 Muswell Hill will be bracing itself for an invasion of ghosts, ghouls, zombies and witches (subject to parental guidance, of course).
(Click here for an Event)
For a second year, Muswell Hill will be holding this fabulous, community-led festival that brings together fellow Muswell Hillians, their families and local traders, and will leave your little monsters howling with delight. This year the festivities will be happening at St James' Square, the new paved area opposite St James' Church
MUSWELL HILL GEISTERFEST EVENTS:
4.00 pm – 5 pm Performances from some of Muswell Hill's talented performance groups including the New London Performing Arts Centre (NLPAC) who will be opening the show with a fabulous dance routine.
5.00 pm – Now it's time to enjoy a host of fun activities taking place around the square or take yourself off trick or treating, but don't forget to come back with your loot to see who wins the prize for the most impressive Trick or Treat hoard!
Haunted Treasure Hunt
Many of the local traders will be taking part in a spooky treasure hunt, collect your map then head off around the square collecting letters, once you have collected them all rearrange them into our Halloween word & return for your prize!
Enjoy Traditional Halloween Games including:
• Apple Bobbing
• Pumpkin Penny Toss
• Pin the Wart on the Witch
• Make a Mummy
Plus:
• A Magician will be performing his spooky spells & magic
• wonderful Halloween themed food tasting will be conjured up by @JDCCatering
• Face Painting for your little monsters
7 pm – Competition Finals
• Creepiest Halloween Costume
• Best Dog Costume
• Most impressive Trick or Treat Hoard
7.30 pm – Monsters Dance Company (@monstersdanceco) will close the show
For more info on all Geisterfest activities:
Twitter @MHGeisterfest
http://muswellhillgeisterfest.com
Organised by: Hillfield-St James Residents Association, BonaFideStudio, Red Desk VA, Muswell Hill Traders group.
Special thanks to Becky Beach, Design is Good, Muswell Hill Mums